Welcome to impact.com! Take a look around the Agency user interface and learn more about where everything is. Also, check out our article on the Performance Dashboard.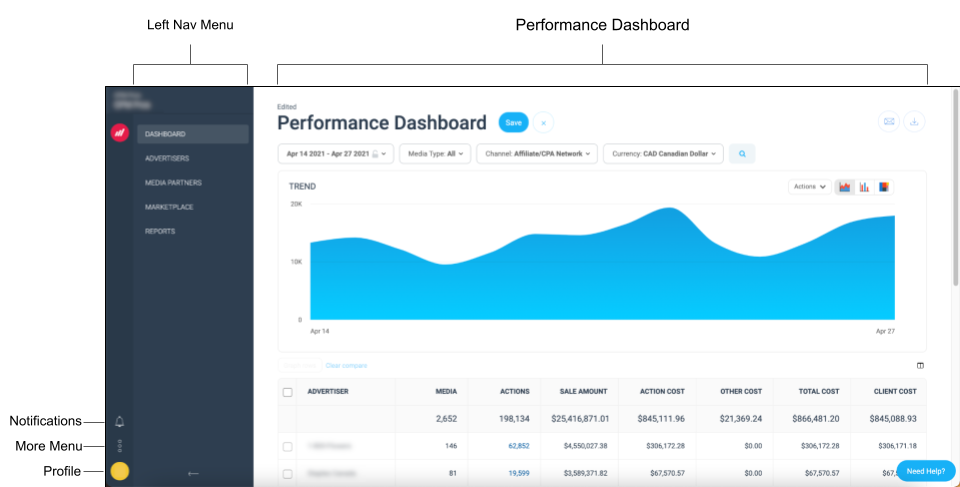 The left navigation menu is where you'll find options to manage accounts, access the Marketplace, and begin running reports.
| | |
| --- | --- |
| Menu Option | Description |
| Dashboard | Return to the Performance Dashboard to see how accounts you manage are performing. |
| Advertisers | Manage the brand (formerly advertiser) accounts that are signed to you. |
| Media Partners | Manage the partner accounts that are signed to you, want to sign to you, and you can view your partner message history on this tab. |
| Marketplace | Visit the Brand, Partner, and Agency Marketplaces here. |
| Reports | Find and run reports from this tab. |
The icons in the bottom-left corner of your screen is where you can manage notification settings, review your account finances, etc. In the bottom-right corner of your screen, you can visit the Guide Center, book time with a CSM, and more.
| | |
| --- | --- |
| UI Element | Description |
| Notifications | See any account notifications and set account notification settings. |
| More Menu (Triple Dot Menu) | Update settings, manage finances, and see what's new in impact.com. |
| Profile | View and edit your profile details, and sign out of impact.com here. |
After selecting the blue ? [Question mark], you can pick from these options:
| | |
| --- | --- |
| Menu Option | Description |
| PXA | Earn certifications and expand on your impact.com knowledge with our Partnership Experience Academy. |
| Guide Center | Launch impact.com's Guide center, where you can follow along with step-by-step guides on how to use the impact.com platform. |
| Book Time | Schedule an appointment with an impact.com representative. |
| Live Chat | Receive real-time help from impact.com's Customer Solutions team. |
| Tickets | Create and manage support tickets here. |
| Help Docs | Access impact.com's Help Center (where this doc is located). |